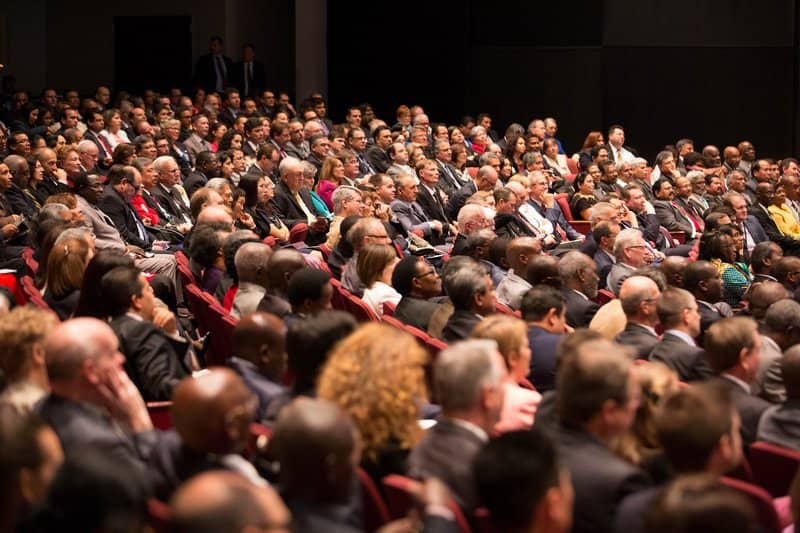 What is the GC Executive Committee?
The second highest governing body of the Seventh-day Adventist Church, after General Conference Session, which occurs every five years. In between Sessions, the Executive Committee is delegated the authority to act on behalf of the General Conference in Session.
It has the power to appoint committees, such as the administrative committee, which reviews, changes and creates working policies to approve strategic plans and programs for the world Church, to employ personnel that may be necessary to execute its work effectively; Elect or remove, for cause, officers, directors, and associate directors of departments/associations/services and committee members and fill any vacancies that may occur in its offices ("For cause" is used in reference to removing a person from an elected or appointed position); Effect the retirement of an elected or appointment position before the expiration of a term for which they have been elected.
When does the Executive Committee meet?
During two annual meetings, Annual Council and Spring Meetings.
Annual Council
Annual Council is held every year, usually in the month of October, for considering budgets from the divisions, making appropriations, and transacting of business and/or adoption of policy pertaining to the operation of the worldwide field. It is held at Church's World Headquarters in Silver Spring, Maryland, or at another location that may be voted by the Executive Committee.
During Annual Council, the Executive Committee also has authority to schedule major meetings. Meetings of the Executive Committee may be called anytime by the ranking officer of the General Conference. Major items affecting the world Church are also considered at the Annual Council meetings.
Local conference/mission/field presidents are invited to attend Annual Council meetings of the GC Executive Committee when it is held within the territory of their Division.
Spring Meeting
Spring Meeting is held annually, usually in the month April (which is springtime in the Northern Hemisphere). 
During this time, the Executive Committee receives the audited financial reports of the General Conference and transacts regular Executive Committee business.
Who is on the Executive Committee?
Leaders of Denomination Organizational Structures
General Conference

President
Executive Secretary
Treasurer/Chief Financial Officer
General Vice Presidents
Undersecretary
Undertreasurer
Field Secretaries
Associate Secretaries
Associate Treasurers
Department Directors

Division

Presidents
Executive Secretaries
Treasurers/Chief Financial Officers

Presidents of Unions
Past presidents of the General Conference holding credentials from the General Conference
Leaders of the Church's Entities and Institutions
President-Executive Director of Adventist Development and Relief Agency International
President-Executive Director of Adventist World Radio
President and Board Chair of the Ellen G. White Estate
President of Adventist International Institute of Advanced Studies
President of Adventist Risk Management, Inc.
President of Adventist University of Africa
President of Andrews University
President of Hope Channel, Inc.
President of Loma Linda University Adventist Health Sciences Center
Director of Archives, Statistics and Research
Director of the Biblical Research Institute
Director of the Geoscience Research Institute
Editor of Adventist Review, Adventist World
Editor of the Adult Bible Study Guide
Editor of Ministry
Denominational Employees, Laymembers, Young Adults
Up to 40 members-at-large: No fewer than fifteen and no more than twenty additional members selected by the General Conference Executive Committee from denominational retirees and current employees, including pastors, teachers, and other frontline employees. AND No fewer than fifteen and no more than twenty members selected by the General Conference Executive Committee from laity including young adults.
Three laypersons and one church pastor from each division without regard to membership size up to 500,000, one additional church pastor or other frontline denominational employee for each additional 500,000 members or major portion thereof.